Written by Mercy Achieng', a HHFL beneficiary: 4th year student at Strathmore University.
The idea of starting mentoring sessions at HHFL struck my mind from the day I started the second year into my BCOM course at Strathmore University.  I hold the thought that there's need for empowerment of all individuals from all walks of life. We all need motivation to thrive and be better versions of ourselves. Strathmore University avails a platform where each student, right from the beginning of their respective course, are assigned a mentor. These mentors are dedicated to taking a student through each stage of their university life as they help them transition gracefully into responsible adults who will impact the society in a positive way.
I've had more than one mentors who have helped me develop into who I am now. They share their experiences with me and make me view life in a totally different light. Mentoring ignites power in an individual; power to do better, power to move a notch higher and power to proceed from step A to step B in one's life. Mentoring has not only helped me balance school and work, it has also enabled me to be more open and receptive to change. With this, I get to grow each day and with help from others, develop into a more preferred version of myself.
Working and attending evening classes has been a bit of a hectic combination and hasn't given me enough time to work on bringing the mentoring experience to HHFL. However, now that I have only four months left to clear my degree course, I have time and resources (my friends from school) at my disposal and what better way to use them than to have the HHFL kids as mentees!
Together with other WAO members, we've managed to have a few of mentoring sessions and I must say these kids are not just learning from us, we are learning from them too! We get to invite older friends from our respective universities and colleges who enjoy talking and spending time with them. The mentors create a friendly atmosphere and approach the whole process in an informal way to have each mentee open up and share issues that they find difficult to share in other formal occasions. Successful sessions end up with a mentor randomly picking a mentee from among the kids, exchange emails and proceed to form a long lasting mentor-mentee relationship.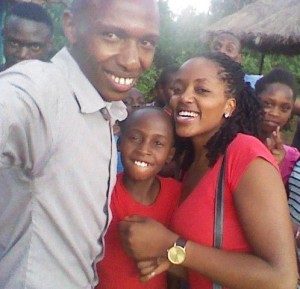 This past Sunday three dancers; Mike, Lumbe and Reagan from Riruta Satellite area in Nairobi together with John Waweru, an actor and friend from my local church joined us for the sessions. Here is what John has to say about the whole experience:
"Most of my weekend time is spent with friends but this particular Saturday my church friend Mercy invited me together with some of her friends to come and spend a weekend with the kids of HHFL.
I thought it was an ordinary day where I'd just spend time with children and go home at day end. My expectation were exceeded by the love I received from the children. I learnt new games, songs etc. Apparently they have a way of welcoming visitors: "The HHFL way." They were so lovely with open hearts and arms to welcome people who they have never seen yet avail total trust to them. It was nice playing with Isaac who seems like the last born of the HHFL family. Even though he was sick he afforded a smile and an open arm to my hug. Am a theater actor by profession and I was able to share my talent with them and motivate them to follow their dreams. They are happy individuals with a bright future ahead. With these mentoring sessions I'm sure these dreams will be realized at all cost. 
All in all I enjoyed myself and I made new friends like Mumo, Mackline, Elizabeth and Janet. All thanks goes to my friend Mercy and I promise to be coming to spend more weekends with them when I have time.
Thank you HHFL for what you are doing to these beautiful children."
I want to convey my gratitude to all the mentors who have so far dedicated their time to come spend time with these kids. Your actions are making hearts smile and with that heavenly rewards await you! We hope to see more of you as we pursue a brighter future.