Written by Ted Horton
It's Saturday.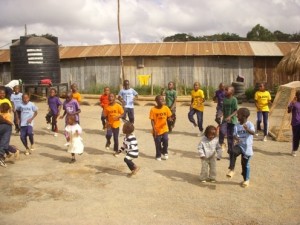 Keep fit classes 6 days a week are very popular with all of the kids. Art is also a Saturday staple.
Mama Brian and Mama Evans, both of whom have kids in the project, are smiling and healthy HIV survivors as they attend to the washing .
After the Class 5, 6, 7 & 8 students arrive home from half-day classes, the compound really starts to hum after lunch. Today it's a variety of races which pit the House teams against each other for honors of the day.
It's somewhat quieter! Thirty two of our high school students are already back in boarding school, as are sixteen of our primary school students (boarding).
Another eighteen kids are being enrolled in various high schools for Form 1. Their classes start February 1.
Ngina is here today. She loves her first year accounting course at Strathmore University.  Eric who started a mechanic's course this week is so happy (great big smile) to be on a career path! Grison who finished Class 8 is keen to start a welding course on Monday. Kennedy and Alice are excited about starting the first of 6 (3 month) IT training modules on Monday that will qualify them for 2nd year university. Very positive feelings all around!
A number of first time visitors have come to the project over the past couple of weeks from Canada, Netherlands and Dubai.  It's fair to say they are "blown away" with this project. Music to our ears!