My daughter Cindella, the youngest charge of HHFL, turned one on May 29, 2009 and what a blast it was!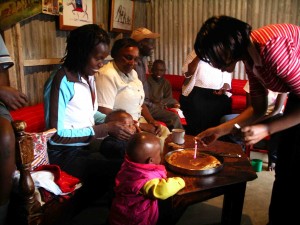 Birthday celebrations are foreign in the slum. Most kids in the program do not know their exact birth date making celebrations difficult, besides, celebrating our birth date is simply not part of our cultural heritage. Nevertheless, all the kids understand "party" which in our world means cake, juice and if you're lucky, even ice cream !
The party took place in the evening after school and the children were beside themselves with excitement. We were determined to have a birthday cake but we have no oven. So we improvised and made one using a charcoal jiko. Aside from being a very good learning experience it was lots and lots of fun for everyone and the end result was fantastic!
This was the first birthday party that our kids have ever witnessed. Their eyes nearly popped out of their faces when we walked in with the lit cake! They all wanted to blow the candle and we had to relight it several times to please all of them. Cindella was equally enthralled! The funniest moment was when we asked them to sing Happy Birthday. They had no idea what this meant. Once they understood the concept and learned the words and music they delivered an eager and enthusiastic rendition and I could not help but thank God for the bounty he bestowed on her for my little daughter is a very lucky girl for sure!
The kids are eagerly awaiting Cindella's second birthday, as this type of celebration relates to her in their minds.