Written by HHFL high school girls
We have been home since the beginning of the month of August. This is usually the shortest school holiday. It does not even last a month. Being home means the world to us. While other kids close school and spent their time with their parents or guardians, home to us means being at HHFL, or The Project as we all have come to call it over time. This is where we are kept busy from Monday to Saturday with extra curricular activities running from 8.00 in the morning till 5.00 in the evening
Our holiday was extended by a week to allow the national census exercise to take place when we were at home. During this week, we received an invitation from Akirachix to attend a tech workshop.
The workshop was named TeensinAI Hackathon and it was being held from 28th -30th August at Kenyatta University. We were all excited to be going. This was a chance to learn more of what we have been learning by attending the bootcamps and Geek Girls Festivals at Akirachix.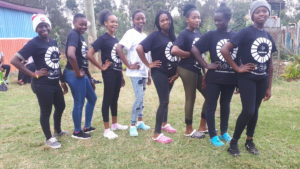 Eight of us were able to attend: Mackline Anyango, Snorine Lihavi, Fatuma Nassir, Leah Wanja, Janet Letoto, Michelle Kivikwa, Michelle Adhiambo and Teresiah Wamaitha. It was 1st time for many of us to visit Kenyatta university which is about 2hrs away from our home.
At the University, we met other teenagers who had signed up for the hackathon, and we met a wonderful team of trainers comprised of students from different universities. We were introduced to the goal of the hackathon which was to help us think of ways we can solve our community problems using AI-artificial intelligence. We were taught about Sustainable Development Goals (SDG) which the United Nations has embraced to change the world by 2030
We were then divided into eight groups, where each group was to work on a project around the SDGs. The following is what we did:
Snorine & Leah
We were with other teenagers who are not from Hanne Howard. The name of our team was Samurai. We worked on SDG 4 which is about Quality Education whose dimensions include Equity and Sustainability. We explored the problems that affect quality education and narrowed them down to Teacher-Student Ratio. Our persona in this case was the teacher, and the user of our AI model would be the government since it is the one that employs teachers.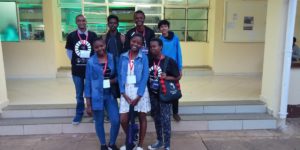 We needed to find a solution that will help the government monitor the teacher/student ratio. We used AI to create a medium that would connect all schools for access by the government. We developed a model with machine learning using Microsoft Azure to monitor student/teacher ratio.
Michelle K & Wamaitha
We were also working around SDG number four which is about Quality Education. We defined what quality education is and what affects it. We narrowed challenges to school dropouts. Looking at the effects we identified drug abuse and poverty as some of the causes. We made a journey map of an orphan who has siblings. An orphanage adopts him, takes him to school and he is later in a position to support his siblings. Our group was not able to make a model
Mackline, Fatuma
Our group worked on SDG number 3, which is about Good health and well-being. We narrowed our focus into sickle Cell anemia, which is a disease that affects young kids mostly from age 4
We were working on a model to help doctors use machine learning to solve sickle cell anemia problem. We learned about a case of one doctor in Tanzania who found a cure for her daughter who was suffering from the disease. She is looking for a solution so that no children are born with sickle cell anemia. We worked using Microsoft Azure
Fatuma, Janet, Michelle
Our group worked on SDG 13, which is about Climate action. We were taught about the different Types of machine learning
We narrowed down our attention to air pollution and we looked at the stakeholders, causes and effects. We narrowed effects down to car fumes and exhaust from factories. We searched for a case study of a trader who sells his goods by the roadside in a busy highway. He once got sick from fumes and was hospitalized and cured. His name is Elvis. We made a journey map of his daily activities
The solution was to come up with an exhaust filter that can prevent the harmful gases from being released into the air from vehicles.
By the end of the hackathon, each team was expected to present the work done for three days. Team Samurai was announced winners. We were all happy to have learned a lot for just three days and as we go back to school, we look forward to sharing this information with other students who did not get a chance to attend, and we will be learning more from our Microsoft Azure accounts.
We are very thankful to Hanne Howard Fund, Akirachix and TeensinAI Africa for giving us this opportunity