Written by Priscah Mulei – HHFL Alumnus
Hello world! My Name is Priscah Kalekye a gospel music minister(artiste) or PK Music and an ICT specialist. I have been a beneficiary of HHFL project since I joined them in 2009 when I was in form two. Since then it's been a bautiful journey.
I studied beauty at Ashley's Beauty College with the hope of becoming a beautician and I am a successful graduate. In my pursuit of a stable career, I later joined KCA University where I was funding myself with support from my father. Here I took a course in IT and I am a diploma holder.
My journey in music started back in high school where I was Christian Union(a student religious organization) leader and I carried on with this passion through campus. At campus is where I seriously began to compose my own songs. It took me time to enter the recording studios because by then I was not financially stable. As time went by I started saving little monies and it took me one year to raise enough cash for recording.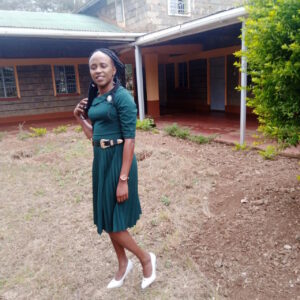 Back then I was singing in a band or( call it music groups ) as a back up singer which boosted my confidence. For a 1st time around 2017/2018 I finally made it to the studio. I did four songs and unfortunately, my producer later called me and said that he had lost my recordings. It was my lowest moment in my life I was frustrated as an upcoming artiste.
I gave myself break then in 2019 December, I engaged a different producer and recorded my first song Tumaini… the song was not well received by the Audience but I kept pushing. In 2020 I did two songs with complete audio and video.
This year, 2021, I recorded another video which has been the password that I feel it has unlocked my music career. For a production to be complete, I compose the songs and also give a rhythm for it. I work with a team of 6-10 people who are involved with photography, audio programming, make up artist, dress code designer, producer among a few.
As far as marketing my music is concerned, I am yet to have a reliable marketing team, and I am reaching out to my network of friends to make myself and my music known. I have been working on getting at least 1,000 subscribers on my Youtube channel so that I can start earning from it. I am at 680 at the moment and I trust in God to give me more suscribers. Please do so once you open the channel. The link to my YT channel – Priscah PK, is here below:
https://www.youtube.com/channel/UCiGxONIQ5NDNBdUI0b763Tg
Among my favorite videos, I choose "You Reign". I released this video around July this year and it has so far it has attracted more than 7,500 viewers. Other than the audience reach, I just fell in love with the rhythm of the song which comes with a Spanish instrumental touch. You can watch it on this link:
Music has taken me to places I never went before and I can not even estimate how far I wanna go to the world. I see myself performing in a big international platform and I am focused to see it happen. I am just from a performance in neighboring country Tanzania. I have aslo been to a number of towns in Kenya. My songs are written in English as well as local dialect of Swahili and my vernacular, Kikamba.
Other than music, I have worked in two real estate companies for the last 4 years in the sales & marketing as well as customer relations departments. My latest job is in an Internet Service Provider company where I am putting my IT skills into good use. I serve as system admin and general manager.
It has been a wonderful journey and I am open to any and all possibilities that come my way.