The Wanafunzi Dream Team campaign is an annual fundraising drive to secure critical post-secondary education funds for HHFL's high school graduates in first rate institutions across Nairobi.
Written by Bonafice Mukaria, 2014 Wanafunzi Dream Team member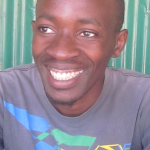 My name is Boniface and I could not be more excited to introduce our new post-secondary education campaign – the Wanafunzi Dream Team! (in case you are wondering, "Wanafunzi" means "student" in Swahili!)
I graduated from high school last November along with 14 fellow HHFL students. Together, we are the 2014 Wanafunzi Dream Team – 15 high school graduates like me with 15 huge dreams of going to College and University in September to pursue careers in IT, education, engineering, finance, hospitality and conservation.
With your help this year, we need to raise $40,000 so we can turn our College and University dreams into reality!
We are proud to have played a big role in creating this campaign because we know that without post-secondary education, our chances of achieving meaningful career success remains limited. We also know that our dreams will not be fulfilled without funding.
This fact compels us to take responsibility and contribute in whatever way we can to make our own dreams come true. For example, our big brother and friend, John Mutahi who is one of HHFL's University students studying Art and Design, created our awesome logo! Hillary, a fellow Wanafunzi was our principal coordinator for all campaign content. And most impressively, some of us have recently found jobs so we can help lessen the education burden in a small way.
But the sad yet real statistic shows that 40% of the Kenya population is currently unemployed and 80% of the unemployed are young people between the ages of 15 to 34. Even more scary, the highest unemployment rates affect youth in our age range – between the ages of 20 to 24.
This is why post-secondary education means everything to us. It will provide the necessary marketable skills and professional training that will break our cycle of poverty and give us a competitive edge over the thousands of unemployed youth in our country. We want to be relevant in Kenya's work force and will work as hard as possible to make that happen!
JOIN THE WANAFUNZI MOVEMENT AND SUPPORT OUR DREAMS!   
Here are three ideas to inspire action:
1. 'Tis the season of sporting events! Are you undertaking a marathon, adventure race, biking/walking race and looking for a great cause to fundraise for? Consider raising money for the Wanafunzi Dream Team!
2. Are you involved in professional and/or other networks that are interested in supporting education? Are they looking for a great cause to support?  Consider the Wanafunzi Dream Team! 
3. Do you have any friends, colleagues and/or family that you can recommend us and our work to
? We'd love the introduction so please forward us along!