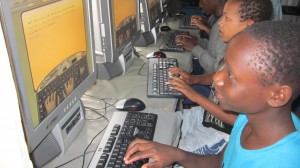 A lot of change has taken place at HHFL over the past six months, with a notable effect on how we train our students on computer proficiency.
Apart from taking the classes for the purpose of acquiring computer skills, which is a prerequisite to anyone regardless of which field of life they venture into, everyone at HHFL is going through curriculum-guided training.
At the end of the training term, our students will be expected to sit for a nationwide recognized certificate examination. Upon successful completion, the kids will add significant value to their resumes. The ICT sector is experiencing exponential growth in Kenya. Those with proficient computer skills will be in a stronger position to compete for job placements and start new businesses. 
HHFL computer training is also changing and shaping the children's perceptions as well as making them responsible computer users.
Here are excerpts from the kid's experiences:
"The certificate training is really helping me because it will help me compete for a job when I get out of school. Our computer teacher is really kind and he teaches us how to type properly. He also helps us write letters to our donor families on the computer. This the best way to tell them what is going on in our lives." – Brian Kangethe, Grade 8
"Computers and learning about the internet help me learn about our country and what is happening in the world. This helps me feel like I am part of something bigger." – Lewis, Grade 8
"I love my computer class. I love powerpoint and the internet the most!" – Diana, Grade 5