The "long rains" fall in the period March to June, and the "short rains" arrive in October and fall to the end of November. Unfortunately, whether the rains are long or short, they can cause some serious problems. For us, we have experienced the worst flooding in years in our project in the past couple of weeks— with more rain in the forecast.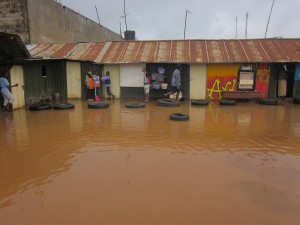 The water you see in these pictures is most certainly contaminated with garbage and raw sewage (without sewers) from the slum and pit toilets around us.
Lenana slum is built on a swamp—lots of black cotton soil! We can do very little about the water. It will eventually subside into the water table. In the meantime, it's a health threat!
Our first challenge is to keep the kids feet out of the water. The flooding has hit our kitchen, prep area (where we normally have a wood fire going) and dining room. It has flooded our Tiny Tots classrooms, library (we have lost many books) and our computer room. Fortunately while our 2 dorms are wet, they are not flooded like the other areas.
This is a plea for help. One of our generous donor's has already provided some funding for rubber boots for a bunch of the kids but we also need additional funds for boots and rain gear and warm sweaters. What we do is to get these items at the matumba (the myriad of second hand/lightly used clothing stalls around Nairobi) which offer a good assortment and for us, really good value for money.
If you can help us, please make a donation today. Many thanks.