Written by Paul Sane Wanjiku, HHFL Alumnus
I have been very passionate in anything involving art and crafts. For a while since my high school days at HHFL, I have been thinking of creative ways to use art and also make money out of my creativity. The skills I gained in the HHFL art and crafts class is what I have been building on.
Around March this year, I made a big step to start a shoe decoration hustle. I started by painting 20 pairs of shoes for a friend who owns a shop in the slum. To start my own business, I needed a spray machine, brushes, paints of different colours, masking tapes and some capital to by the shoes. I used the income from the job to buy my own 1st pairs and resell them after painting.
Some time before COVID came, I was involved with stage decoration for a cinema group and the savings I had made out of this job enabled me to purchase a painting machine. I use this machine to modify the shoes to an appealing new look so as to attract customers.
Most of my clients come through social media and a few from my neighborhood. I paint mobile phone covers, shoes, motorbikes bodies and many others. On average, I buy 20 pairs of shoes and sell them within 3 weeks.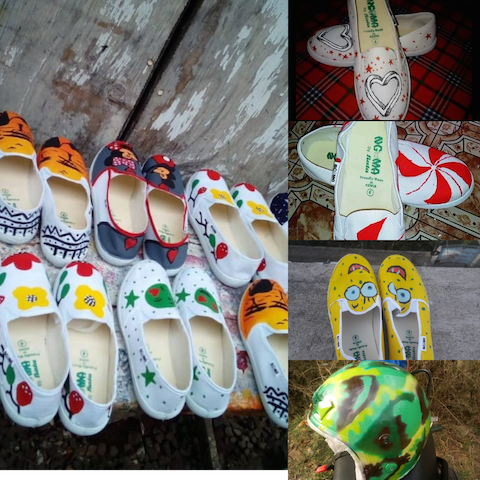 For motorbikes and some shoes, depending on the details needed, I use the spray machine. For canvas shoes I use fabric paints and a variety of brushes of different sizes.
It gives me a great satisfaction seeing that the things we would take lightly while being taught at HHFL are very practical in real life, and I encourage my young friends at HHFL to make use of every opportunity given to them.