Written by Marianne Florijn, HHF Board Member and donor
Just returned from my annual visit to Lenana. Last year I just missed the opening of the newly built hostel, so this time I went to see the two dormitories with a sitting lounge in the middle. What great progress!! I saw neatly made beds and even a walk-in closet. The hostel will be very crowded when all the kids return for spring break, but I have much faith in Mama Mary who sleeps there and keeps a close eye on her flock!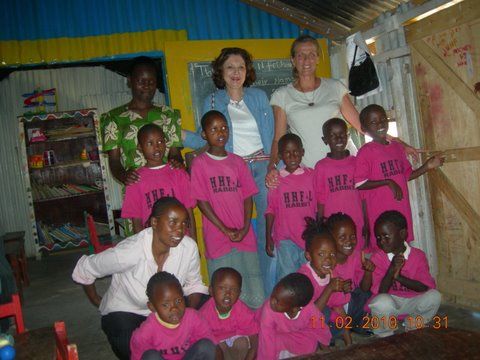 Hanne, together with Lucy and Mama Mary have initiated a stern program that when children come home from day school they cannot throw their clothes and shoes on a big messy pile, but as each child belongs to a 'house' (Hyena, Leopard, etc), they now have to follow strict rules such as folding up their uniform, putting their shoes neatly in a row and changing into their play uniform!
Another big improvement is the installation of the new water tank as a result of donation by KLM's flight attendant organization called Wings of Support. Real showers in our slum! Who would ever dream! This important hygienic addition will greatly improve life for the HHFL children. The KLM crew love visiting the kids in the project and last time, they brought a memory game which we all enjoyed playing together.
My husband Eddy came to Kenya this year as well for the first time and we both received a warm welcome/farewell by the whole HHFL group!  We were all dancing and finished the celebration with an old fashioned 'polonaise'!!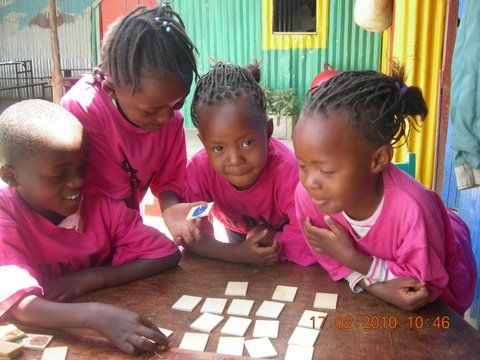 Thank you to Hanne, Ted, and the HHFL staff and kids for giving us another unforgettable visit. I will do my very best to spread the word in my part of the world – all the improvements show that the donations are being spent wisely and responsibly. However, the cost to support our growing teenagers increases each year making continued fundraising efforts a necessity.
Tot Ziens!!