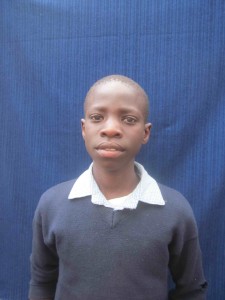 Sponsor Rashid in CDN currency
What do I get with my sponsorship?
A fostering certificate

E-mails/pictures from Rashid 2-3 times/year

E-mail access to Rashid or Skype call

Knowledge that you are changing a life!
Birthdate: March 29, 2001
Form 1 at Kangemi High School, Nairobi-Kenya

Rashid's father left the family in 2010 and has not been seen since. Rashid's mother accepts any casual labor that comes her way to provide for her family. She takes in laundry and sells chips on the streets. She is a loving and caring mother. She is also very resourceful and determined to give her children an education. In 2007, she made a compelling case for Rashid to be accepted into HHFL.
Rashid is an average student who loves learning and going to school.  Social studies is his favorite subject. He is an active participator both in school and at the project. He is the scout troop leader for the young ones both at school and at HHFL. Rashid is readily accepted as a leader amongst his peers. He loves working with powerpoint and photos during computer class. He is a very good dancer and loves athletics of all kinds. He is trustworthy, disciplined and responsible.